The Arnau family, which runs the super-successful Spanish party brand Elrow, has many Juans. Too many, some might say.
"This is Juan father," screams Rosa, Elrow's friendly PR, over a pumping tech-house soundtrack. We are at the imposing villa in the Pedralbes suburb of Barcelona – known as the Beverly Hills of the city – that serves as the clubbing behemoth's HQ. Around us, industry heads and Spanish reality TV stars celebrate the beginning of city-wide dance music festival Sonar. I drink margaritas and eat tiny chocolate mousses served to me by men in green suits.
How, I ask the Arnau patriarch, does he know which Juan is being addressed? After all, there are six in the family. He clamps my shoulder. "Juan!" he says with an upward flourish. "Juan!" he goes on, with a slight inflection on the "an". "Juan!" drawing out the "ua". "You see?" I nod uncomprehendingly, my shoulder numb. "Of course" – Juan father darkens – "then there are the Juanitas." He excuses himself to attend to his guests.
I am in Barcelona to meet the Arnaus as they prepare to launch an ambitious expansion strategy that, if successful, will consolidate their position as one of the world's most successful clubbing brands.
Clubs and dance music promoters often struggle to make ends meet. Licensing restrictions such as those recently implemented by Hackney council in London are onerous. Gentrification drives up costs as promoters compete for the venues that remain. Health-conscious young people go out and drink less than before. In fraught times for the clubbing industry, Elrow is a rare success story.
It specialises in immersive, experiential clubbing. Parties are dramatically themed: enchanted forests; Brazilian jungle carnivals. Perhaps you will find yourself dancing under a metallic dolphin or beside huge, psychedelic butterflies. Actors in fancy dress circulate the venues, engaging the crowd. It is not for everyone, particularly if you are timid (giant confetti cannons explode without warning) or prefer your nightclubs dark and gloomy (imagine a Dr Seuss book reimagined in fluorescents).
Since Juan Arnau Jr, the brand's CEO, created Elrow as a Sunday party for his friends in Barcelona in 2010, the brand has enjoyed exuberant growth. It employs more than 100 people in its headquarters and will turn over more than €20m (£18m) this year. In 2018, Elrow will throw 131 parties (or "shows", as it calls them) around the world.
In part, this is made possible by the family itself. They are the Medicis of raving, with a dynasty spanning back to 1870. Six generations of Arnaus have worked in entertainment, from a 19th-century ancestor who opened Café Josepet, the first social club in Fraga, 95 miles west of Barcelona, through to 50s-era music halls and 80s electro clubs. The family history is as fantastic and colourful as one of Elrow's complicated set designs – the man who founded the first cafe also lost the family estate in the Monegros desert, west of Fraga, after betting it on a game of poker.
"The Arnau family have been doing this for a long time," says Simon Denby, a talent booker who co-founded the dance music brand Percolate. "It can seem like their success has come out of nowhere, but they've got such a long history and a big understanding of how things work and why things are good and bad."
An enormous, star-studded map of the world hangs on one wall of the colourfully decorated conference room in Elrow's HQ. Each star represents a 5,000-capacity Elrow show – and there is a constellation's worth of them.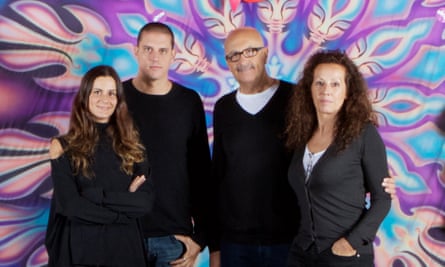 'They have been doing this for a long time' ... members of the Arnau family.
"Europe is one of our biggest markets," says Arnau Jr. "South America and the US are growth areas, especially Brazil, [Las] Vegas and Miami. We're also moving into Australia and China. We'll be doing 14 shows in China next year." He gazes at his map with the dissatisfaction of a world-conquering dictator. "I'm never happy. I want to take the brand to the next level." Like the kaleidoscopic octopuses you might see hanging above its packed dancefloors, Elrow's tentacles continue to spread. This weekend, it is holding a two-day festival at Queen Elizabeth Olympic park in east London that will be attended by 55,000 people; further UK shows, in Newcastle and Southampton, are planned for later this year.
There have been missteps along the way – in 2016, Elrow apologised after fans were offended by a poster caricaturing the Hindu deity Shiva as part of a Bollywood-themed party – but its path to domination has been mostly untroubled. Dance music purists tend to be privately disparaging about the brand's corporate culture and its music policy and snobbish about its fans; the veteran DJ Carl Cox has described Elrow as "forced and staged". But most people are wowed by its visual brio.
Although much of Elrow's initial success can be attributed to the Arnau family's expertise in the clubbing industry and its deep coffers ("I said: 'Dad, I need €15,000 for decorations,'" remembers Arnau Jr during an anecdote about the brand's early months), any venture of this scale requires major capital investment. In 2017, Elrow partnered with Superstruct, a live entertainment platform backed by the private equity firm Providence, and its cash goes some way to explaining the young, hyper-competent Elrow employees I meet during my time in Barcelona. Elrow's president, Vicenc Marti, explains that the business model emulates that of Cirque du Soleil, which transformed a tired and not-particularly-profitable industry – the circus – into a global business concern.
Elrow's model is genius, because they've eliminated the need to book ultra-expensive headliners in order to sell tickets
There is another reason Elrow is so profitable: in an industry where the DJ is king, it has shifted power away from highly paid record-spinning gods. "Elrow's model is genius, because they've eliminated the need to book ultra-expensive headliners in order to sell tickets by building up a cult following around the party itself rather than its music," explains an editor at a leading dance music publication, who prefers to remain anonymous; such is Elrow's power, marketing budget and PR machine, few will go on record to speak about the brand.
"They sell out [the superclub] Amnesia in Ibiza consistently with smaller, less costly lineups than other superclubs on the island," the editor says. "The concept itself is quite sexy for the media – the photos always look phenomenal – plus the brand is a bit more easily digestible for peripheral dance music fans who don't know much about house and techno, but still want to experience big-budget club nights."
Later that week, I attend Elrow's closing party at Sonar, in a semi-industrialised area a stone's throw from Barcelona airport. I thread my way through a maze of exuberantly themed rooms. Girls in buns and Moschino bikinis take selfies and dance under an enormous papier-mache dinosaur head suspended from a rainbow-striped ceiling – perfect Instagram fodder. In another room, a Loch Ness monster presides, incomprehensibly, over the dancefloor. The Danish DJ Kolsch plays his track Grey while stilt-walkers and men in foam outfits, dressed to look like dancing bottles of Desperados lager, circulate the tiki-themed main stage. Transfixed, I barely notice when an enormous confetti cannon goes off; I look down to see that my drink is full of brightly coloured paper.
Rather than being seasoned clubbers, the fans I interview all view Elrow parties as a special one-off. "I prefer Elrow over clubs, because their decorations are always over the top and unique," says 21-year-old Reagan Bowling. "It's about €50 for a ticket, which is expensive, but I feel like it's worth it, because it's similar to events in Ibiza that are about the same price."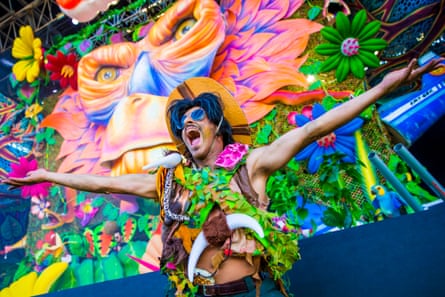 'People would rather spend more money going to that one really special event every few months with amazing production.' Photograph: Maxime Byttebier
"For the experience, I think it's worth the money," agrees 26-year-old Simon White, clad in a funky shirt and denim shorts, with an inflatable Elrow-branded rubber ring around his neck. "I rarely go to clubs unless there's a DJ I'd like to see."
Elrow has subverted traditional clubbing models in part because those have become pale and stale. Search the listings for almost any major city and you will see competing, identikit offerings, often with the same roster of endlessly touring techno and house DJs. By contrast, Elrow offers a saturated burst of immersive entertainment that translates well on social media for a crowd that is less engaged in dance music. It scratches the same itch that makes adults pay to play in big ball pits or throw paint at each other in loose approximations of the Hindu Holi festival. "People aren't that interested in headliners any more," says Denby. "People would rather spend more money going to that one really special event every few months with amazing production."
There is a stereotype about people from Aragon, the oft-overlooked area of north-eastern Spain from where the Arnau family hail: they are stubborn, mutinous even, in the pursuit of their goals, like the horses that roam the uppermost edge of the region, where the landscape morphs into the Pyrenees.
"One thing I learned from my grandfather and father was that you always party with the customers," Arnau Jr told me earlier in the week. "My sister and I would always be the ones dancing with the crowd. That's when I realised that people were completely saturated. Back in the day, people were willing to pay to see an amazing DJ like Carl Cox, but now they're not willing to spend that money, because you can see them every week. So, we have to deliver something else – something special."
Only someone with a stallion-like disposition could turn that insight into a multimillion-euro brand – someone Aragonese, perhaps. And it is making people feel special – and grabbing them by the eyes rather than the ears – that has made the Juans number one.
The free press is under attack from multiple forces. Media outlets are closing their doors, victims to a broken business model. In much of the world, journalism is morphing into propaganda, as governments dictate what can and can't be printed. In the last year alone, hundreds of reporters have been killed or imprisoned for doing their jobs. The UN reports that 85% of the world's population experienced a decline in press freedom in their country in recent years.
As you join us today from Spain we hope you will consider supporting us in our efforts to do something about this. Despite the financial challenges plaguing the media industry, we've decided to keep our journalism paywall-free, because we believe everyone has the right to high-quality, fact-checked reporting. And we maintain our independence thanks to generosity from readers all over the world, who understand that supporting the free press is an investment in an informed and empowered public.
Unlike many others, we have no billionaire owner – this helps us maintain the freedom to fearlessly chase the truth and report it with integrity. Your support will allow us to continue to work with trademark determination and passion to bring you journalism that's always free from commercial or political interference.
Help power the Guardian's reporting for the years to come, whether with a small sum or a larger one. If you can, please support us on a monthly basis from just €2. It takes less than a minute to set up, and you can rest assured that you're making a big impact every si